---
Heute scheint der Tag der beschissenen Meldungen zu sein. Nicht nur schrieb ich gerade darüber, dass "Preacher" Coverzeichner Glenn Fabry schwer an Lungenkrebs erkrankte, da muss ich nun berichten, dass Comiczeichner Carlos Ezquerra, Co-Schöpfer der mehrfach verfilmten Comicfigur Judge Dredd, nach einem langen Leiden an Lungenkrebs im Alter von 70 Jahren verstarb.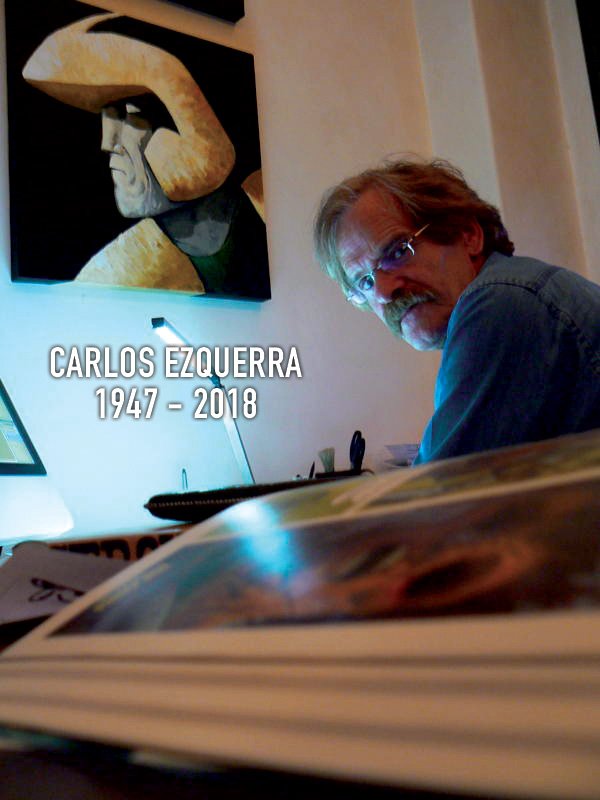 Der "2000 AD" Künstler hatte bekanntermaßen einen hoch angesehenen Stellenwert innerhalb der Comicszene, wie erste Resonanzen diverser Kollegen schnell zeigten.
Hier einige Wortmeldungen trauernder Kollegen:
Very sad to hear that Judge Dredd legend Carlos Ezquerra has passed away, surely the definitive Dredd artist. Had the honour of working with him back in my early 20s on the Purgatory strip. His unique style elevated every strip he touched: pic.twitter.com/pVvawVZsHU

— Mark Millar (@mrmarkmillar) 1. Oktober 2018
Just feeling hollowed out by the news that Carlos Ezquerra has passed away. Between Strontium Dog and Judge Dredd, his work has meant more to me over the years than any other comic artist. I remember how his pages would smell of fine cigar smoke. He was just a lovely man. #RIP

— Andy Diggle but, y'know, spooky (@andydiggle) 1. Oktober 2018
Very sorry to hear about Carlos Ezquerra today. I never met him (though he did kill me in 'The Authority: Kev. I was the model for Tiny in Glenn Fabry's run!) He was a legend to those of us that grew up with his work in 2000ad on Dredd, but more specifically Strontium Dog.

— Liam 'The Brave & The Bald' Sharp (@LiamRSharp) 2. Oktober 2018
So sad to hear of the passing of Carlos Ezquerra. What a great, influential artist - will be so missed.
But on top of everything else, he was such a lovely, lovely man. My heart goes out to his family.

— Charlie Adlard (@CharlieAdlard) 1. Oktober 2018
My heart thoughts and prayers
Go out the family of legendary artist and Judge Dredd co creator Carlos Ezquerra .
His exemplary work served as inspiration for me and countless other filmmakers and artists worldwide .

— Karl Urban (@KarlUrban) 1. Oktober 2018
Saddened to hear about Carlos Ezquerra's passing. He co-created the legendary comic character JUDGE DREDD, whose stories I used to devour in the 80s/90s. Another Maestro of comics gone way too soon. pic.twitter.com/Sy8OOBewBD

— FrancescoFrancavilla (@f_francavilla) 1. Oktober 2018
Will cherish even more now. What a gentleman #CarlosEzquerra #RIP pic.twitter.com/4BfoFb0qcE

— jock (@Jock4twenty) 1. Oktober 2018
RIP Carlos Ezquerra. The Apocalypse War panels here just capture some fragments of what made him so interesting. https://t.co/FnqRW04pRP

— Kieron Gillen (@kierongillen) 1. Oktober 2018
So sorry to hear Carlos Ezquerra has taken the long walk, an artist fundamental to @2000AD and thus my childhood.

— Duncan Fegredo (@duncanfegredo) 1. Oktober 2018
RIP Carlos Ezquerra, co-creator of Judge Dredd and Strontium Dog! pic.twitter.com/hgi23B1pny

— Die!Burnham!Die! (@TheBurnham) 1. Oktober 2018
Just heard that Carlos Ezquerra passed away. This is heartbreaking. I had the honor of working with Carlos many years ago on the JUST A PILGRIM series with my buddy Garth Ennis & editing Carlos- as well as having the pleasure of talking and meeting him many times. RIP my friend. pic.twitter.com/ofkyPBbxYR

— Jimmy Palmiotti (@jpalmiotti) 1. Oktober 2018
ah shit no, so sad to hear of the passing of Carlos Ezquerra - a true comics legend, a brilliant artist and storyteller and one of the best designers in comics- Dredd and Strontium Dog are iconic. Thoughts with his family, friends and fans...

— John McCrea @NYCC artists alley A28 (@mccreaman) 1. Oktober 2018
Very sorry to hear about the passing of Judge Dredd artist/co-creator Carlos Ezquerra. It was a thrill to get to work with him on a cover for our Dredd launch. First time we talked, he offered to make me paella and to put me up if I ever came to visit. I never made it, dammit. pic.twitter.com/HNYcmC4FlC

— Chris Ryall (@chris_ryall) 1. Oktober 2018
Just heard that Carlos Ezquerra passed away. I'm shocked and greatly saddened. He was a good friend and an immense talent.

— Dave Gibbons (@davegibbons90) 1. Oktober 2018
(Picture Copyright: Carlos Ezquerra)
Passionierter Fanboy & Comic-Nerd. Ist seit vielen Jahren im Netz als Blogger unterwegs und fungiert als Betreiber und Autor von bizzaroworldcomics.de.
Zudem wirkt er als Autor für Fachmagazine wie Comic.de und stellt 1/3 Sprechblase bei POW! - Ein ComicPodcast. Er lebt mit seiner Frau und seinen Kindern im Harz.