Eine der aktuell wohl besten SciFi-TV-Shiows dürfte unweigerlich "The Expanse" sein, welche mit der jüngst erschienen vierten Staffel beim Medienriesen Amazon gelandet ist.
Der US-Verlag BOOM! Studios kündigte nun eine vierteilige Comic-Mini-Serie zum TV-Format an, welche von Corinna Bechko (u.a. "Green Lantern: Earth One") und Zeichner Alejandro Aragon (u.a. "Resonant") umgesetzt werden soll.
Die erste Ausgabe soll bereits am 02. Dezember 2020 für den US-Markt erscheinen.
Hier die offizielle Pressemeldung zur Ankündigung:
LOS ANGELES, CA (September 4, 2020) – BOOM! Studios is proud to announce THE EXPANSE, a new four-issue limited comic book series from writer Corinna Bechko (Green Lantern: Earth One) and artist Alejandro Aragon (Resonant) which is set between Season 4 and the upcoming fifth season of the Amazon Prime Video hit television series, The Expanse. The limited comic book series is available in comic shops starting December 2, 2020.

The first four seasons of The Expanse television show are available to watch now on Prime Video. The show is financed and produced by Alcon Television Group, a division of Alcon Entertainment.

THE EXPANSE picks up with Chrisjen Avasarala at the end of the television show's fourth season. The longtime Secretary-General of the United Nations finds herself dealing with the outcome of the tumultuous elections for her position and far from Earth but not its politics. When Bobbie Draper - a former Martian marine - brings Avasarala intel on an intergalactic black market weapons ring, Avasarala sees a chance to reclaim her political position through a clandestine operation. But as Draper digs deeper into this secret cabal, she soon realizes the threat they pose is far larger - and closer to home - than either of them ever imagined.

Corinna Bechko has been writing both comics and prose since her horror graphic novel Heathentown was published by Image/Shadowline in 2009. She has worked for numerous publishers including Marvel, DC, Dark Horse, BOOM! Studios, and Sideshow on titles such as Star Wars: Legacy, Savage Hulk, Angel, Once Upon a Time, Court of the Dead: The Chronicle of the Underworld and the Hugo-nominated series Invisible Republic, which she co-writes with Gabriel Hardman. Green Lantern: Earth One, co-written with Gabriel Hardman, was nominated for an Eisner in 2019. Her book for young readers, Smithsonian Dig it! Dinosaurs, co-written with Brenda Scott Royce, appeared last year as well. She lives in Los Angeles and has a zoology degree, both of which probably influence her writing even more than she realizes.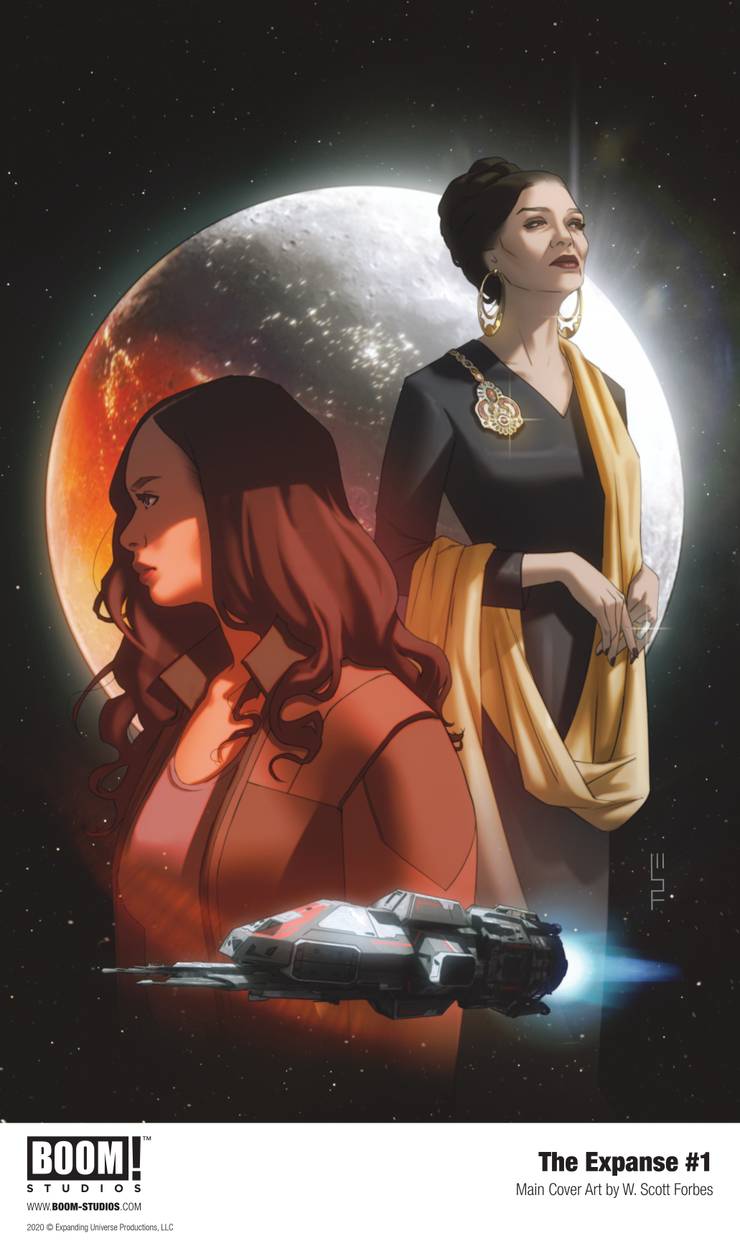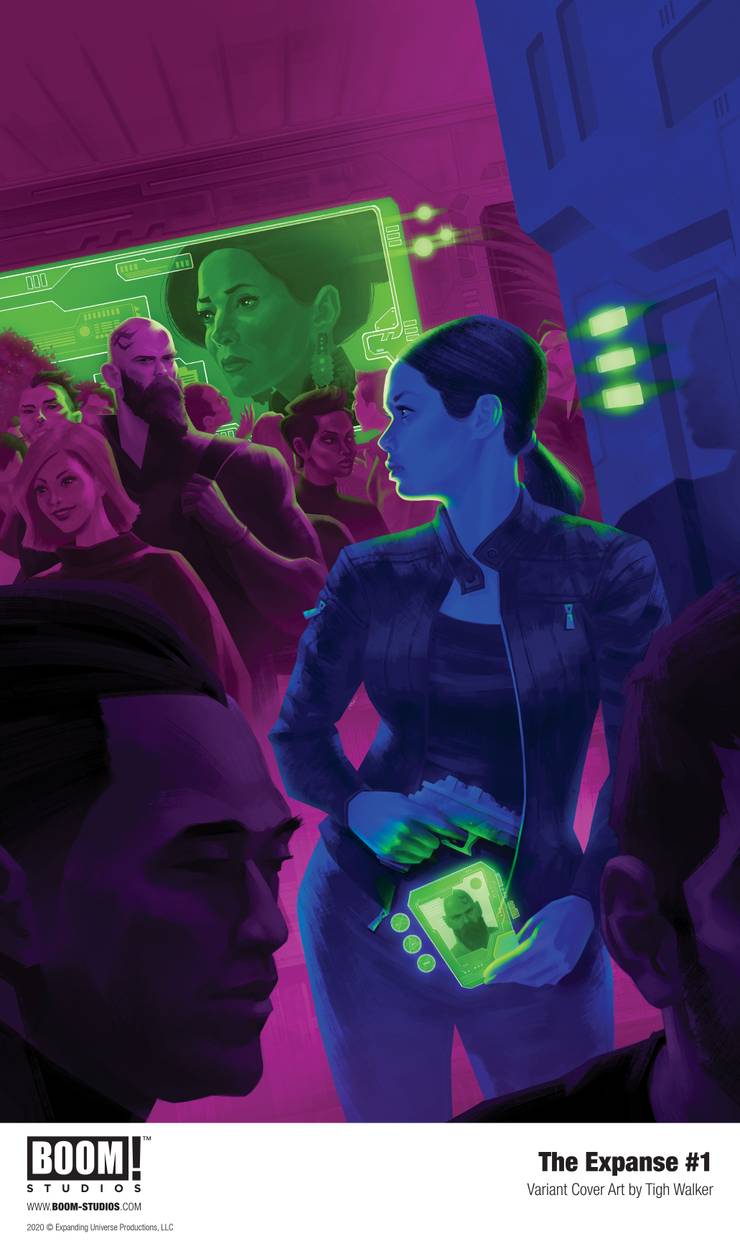 "I couldn't be more excited to add a piece to the universe of THE EXPANSE!" said Bechko. "It's a show I both adore and admire, so the chance to craft a noir-tinged plot involving two of my absolute favorite characters from the series makes me feel like the luckiest writer around."

Alejandro Aragon is a comic book artist from Rosario, Argentina. Aragon's illustrations have been published by BOOM! Studios, Image Comics, Dark Horse, IDW, Vault Comics, and more. He is also the co-creator of comic book series Resonant with Vault Comics and Death Orb with Dark Horse.

"THE EXPANSE is one of the best sci-fi television shows out there right now. I am honored to be a part of this journey and very excited to draw this universe and the incredible characters in it," said Aragon.

"Corinna and Alejandro are the perfect team to tackle the complicated relationship between two of the most compelling and unpredictable characters in The Expanse," said Eric Harburn, Senior Editor, BOOM! Studios. "Fans of epic science-fiction, political intrigue, and the machinations of Martians, Earthers, and Belters can't miss a single moment of this tie-in series that sets the stage for the newest season of the beloved television series."

THE EXPANSE is the latest release from BOOM! Studios' eponymous imprint, home to critically acclaimed original series, including Once & Future by Kieron Gillen and Dan Mora; Something is Killing the Children by James Tynion IV and Werther Dell'Edera; Faithless by Brian Azzarello and Maria Llovet; The Red Mother by Jeremy Haun and Danny Luckert; Alienated by Simon Spurrier and Chris Wildgoose; King of Nowhere by W. Maxwell Prince and Tyler Jenkins; Wynd by James Tynion IV and Michael Dialynas; Seven Secrets by Tom Taylor and Daniele Di Nicuolo; and We Only Find Them When They're Dead by Al Ewing and Simone Di Meo. The imprint also publishes popular licensed properties including Joss Whedon's Firefly from Greg Pak and Dan McDaid; Buffy the Vampire Slayer from Jordie Bellaire and David López; Angel from Bryan Edward Hill and Gleb Melnikov; and Mighty Morphin Power Rangers from Ryan Parrott and Daniele Di Nicuolo.

Print copies of THE EXPANSE #1, featuring main cover art by artist W. Scott Forbes (Firefly), as well as variant cover art by Tigh Walker (Venom: Annual) and more, will be available December 2, 2020 exclusively at local comic book shops (use comicshoplocator.com to find the one nearest you) or at the BOOM! Studios webstore. Digital copies can be purchased from content providers like comiXology, iBooks, Google Play, and Madefire.
Passionierter Fanboy & Comic-Nerd. Ist seit vielen Jahren im Netz als Blogger unterwegs und fungiert als Betreiber und Autor von bizzaroworldcomics.de.
Zudem wirkt er als Autor für Fachmagazine wie Comic.de und stellt 1/3 Sprechblase bei POW! - Ein ComicPodcast. Er lebt mit seiner Frau und seinen Kindern im Harz.